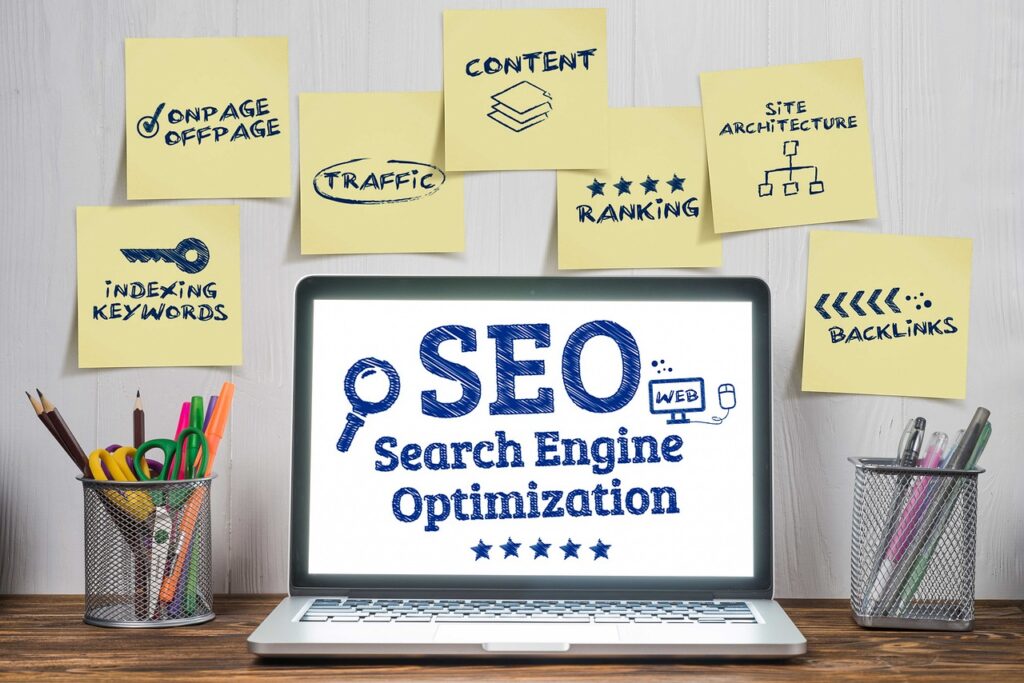 What is SEO?
The process of optimizing a website or web page for search engines is called search engine optimization (SEO). Instead of direct traffic or paid traffic, SEO targets unpaid traffic (known as "natural" or "organic" results). Traffic from unpaid search engines can come from a variety of sources, including image searches, video searches, academic searches, news searches, and industry-specific vertical search engines.
A search engine optimization strategy takes into account how search engines work, what people search for, what searches are actually typed into search engines, and which search engines are preferred by their targeted audiences as a form of Internet marketing strategy. Search engine optimization (SEO) increases website traffic from search engines by ranking higher on their search engine results pages (SERPs). Potential customers can then be converted from these visitors.
You can improve your site's organic rankings on search engines such as Google, YouTube, Amazon, and Bing by using search engine optimization (SEO).
An SEO campaign includes the following:
– Incorporating high-quality content
– Keeping track of the technical status of your website
– Establishing links with other websites
– Providing a fast-loading website
– Easy-to-navigate website
What makes SEO so important?
We can break down SEO's value into three parts:
An organic result is an unpaid listing on a search engine results page (SERP) that the search engine has determined is most relevant to the user's query. Many SERPs are dominated by ads (in this case, pay-per-click ads). As opposed to these ads, organic search results are positioned based on the search engine's organic ranking algorithms, not advertiser bids. There is no way to pay to rank higher in organic search results.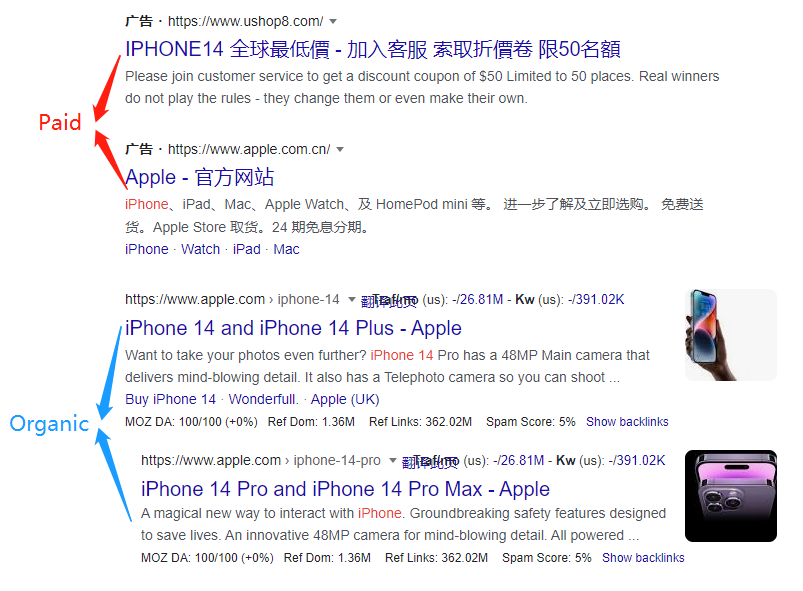 Organic traffic quality indicates how relevant your website's content is to the user's search query. Only visitors genuinely interested in your site's products, information, or other resources are considered high-quality traffic. An effective search engine optimization strategy capitalizes on the search engine's efforts to match a user's search intent with the web pages displayed on the search engine results page.
Organic traffic volume: the number of users who reach your site through organic search results. Your SEO strategy should rank relevant pages as high as possible in the SERPs since users are more likely to click on results near the top. Visitors who are high-quality are more likely to convert to your site, so attract them as much as possible.
How does SEO work
To gather information about all the content on the internet, search engines like Google and Bing utilize crawlers, sometimes called bots or spiders. Crawlers start from a known web page and follow internal and external links from that page to pages within other sites. A crawler can determine what each page's content is about and how its semantic connection to every other page within the search engine's massive database, or index, is based on the content it found on those pages, plus the links it followed.
Search engines use complex algorithms to pull out the most useful and accurate results based on the query a user types or speaks into the search box. Search engine results for organic keywords may include text-based pages, news articles, images, videos, local listings, and more niche content.
How Google ranks websites
For finding and ranking content, Google follows these steps:
– Crawling: To find new or updated content on the web, Google uses web crawlers. The page must be linked to other pages for Google to find it. A page with more links to it is generally easier for Google to find.
– Indexing: The next step is the indexing process, which involves Google making sense of what each page is about using the information found by the bots. Media files, such as images and content, are considered by Google. This information is then stored in Google's index (in other words, its database).
– Server: Search engine results pages are ranked based on how relevant they are to users' queries.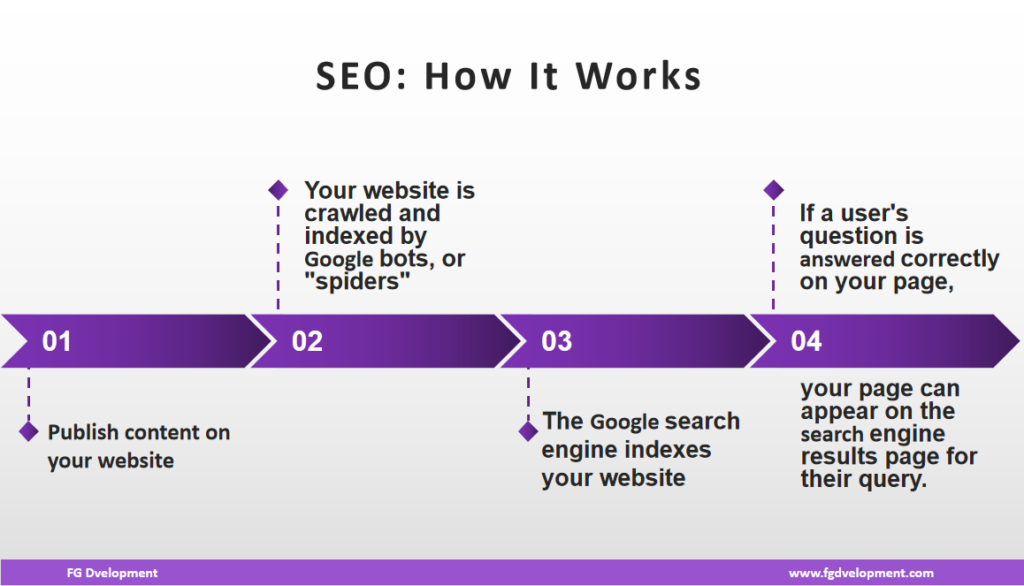 The key factors to consider when ranking on Google in 2022
It is super fast for SEO to change. Thousands of changes are made to Google's algorithm every year. We'll examine three of the most important ranking signals before diving into specific SEO strategies for ranking in Google.
Achieving relevance
Google's top priority is to display relevant search results to users.
Back then, Google determined a page's topic solely based on the keywords it contained.
Screenshot of a keyword-filled page
In a certain sense, Google still looks for keywords on your page. However, Google today is able to interpret a page's topic by simply "reading" it.
A diagram illustrating how Google interprets the content
In this way, Google is able to return relevant results that may not include the exact keyword someone just searched for. Finally, this will result in more people getting relevant results.
The authority
A set of relevant results is one thing, but determining them is another. The question is, how can those results be arranged? That's where authority comes in.
As a result of authority, Google determines which websites (and specific webpages) are highly trusted. Backlinks pointing to a page are largely used by Google to determine authority.
An illustration of how authority is passed through backlinks
Backlinks outrank pages without any backlinks, all else being equal.
(It is a ranking factor that is very important.)
The quality of the content
A website's content quality is the last of Google's "big three" ranking factors. There is no doubt that "quality" is a subjective concept. Google, however, does not determine content quality by how good the writing is or how a page looks.
Instead, Google considers any page that satisfies search intent as "high-quality."
In other words, let's say you do a search for "T-Shirt." There isn't a lot of authority on Website #1, which is a smaller site. In spite of this, the author of that website has compiled a great list of T-shirt styles. There are also lots of user reviews and pricing information available.
In the T-Shirt industry, Website #2 is a well-established, older website. There is a lot of authority in their organization. They have a limited selection of T-Shirt styles, however. This makes it difficult for users to find what they're looking for.
Website #1 will typically outrank Website #2 in many cases.
How to Rank Higher on Google (SEO)
On-Page SEO
Search engine optimization (SEO) is the process of optimizing your webpage content for search engines.
Essentially, on-page SEO helps search engines understand what your page is about.
In order to accomplish this, you can optimize for the following on-page SEO techniques:
– Content
– Headlines and headers
– Title tags
– Meta descriptions
– Images
– Internal links
– Structured data
– URLs
– HTML code
Additionally, you should use your target keyword a few times on your page as well as:
– Make sure each page on your site is optimized for one keyword (or a couple of variations of that keyword).
– Your title tag should contain your keyword: Google gives more weight to text in your title tag. Therefore, you should include your target keyword there (once).
– Linking to other pages on your site can assist Google in finding, crawling, and indexing them. These pages can even rank higher in the SERPs.
– Speed of the page: If users can't find the information they want quickly, they'll leave. Make sure your page speed is fast enough by using Google's PageSpeed Insight tool. A specific way to speed up things will be provided by the tool if there are any issues.
Off-Page SEO
Off-page SEO consists of all SEO activities that do not take place on your website.
In what ways is off-page SEO important?
Off-page signals are used by Google and other search engines to determine the authority and trustworthiness of your site. In particular, they look at backlinks to determine which sites have the most authority.
As a result, backlinks are viewed by search engines as votes of confidence. The reason for this is that a backlink from an authority site boosts the authority of your site. This can result in improved rankings.
"Link building" is the process of acquiring backlinks for your site. Even though you want as many high-quality links as possible, more links aren't always better. Your website's rankings can be negatively affected by spammy backlinks, which can even lead to Google penalties.
Link building can be time-consuming and difficult. But because backlinks are essential for ranking for virtually any keyword, it's an important skill to acquire.
Here are some of the areas you'll need to improve in order to rank higher on Google.
High-Quality Content (SEO)
There are over 200 ranking factors used by Google in their algorithm. In general, the better your content, the higher your ranking will be.
Thus, you should focus most of your SEO efforts on creating awesome content rather than optimizing your title tags.
Each topic should be thoroughly covered
Content that answers users' questions thoroughly is desired by both Google and users.
Skimming-friendly writing
The majority of people who visit your website don't read every word.
It is therefore crucial that your content is optimized for people who skim.
Practically, this means:
– Subheadings should be used frequently in sections.
– Lists and bulleted sections should be included.
– Make your sentences and paragraphs short.
– Don't refer to the content above where the user is ("as discussed earlier…")
– Visuals and videos should be included in generous amounts.
There isn't a lot of dense content in this article. Rather, it's easy to skim and get the key points at a glance. That's what we're aiming for.
Make Yourself Unique
For most high-volume keywords, there are already hundreds (if not thousands) of results.
So it's crucial that your content stands out.
This does not mean that you should reinvent the wheel. You should generally stick with what's already working (and improve on it).
There's no point in regurgitating the top 10 results and expecting to rank on Google's first page.
The best way to rank on page one is to build on what's already working. Also, add something unique that is all yours.
To help your content stand out from the current top 10 results, follow these steps:
– Studies, numbers, and specific examples should be included. You can use all of these things to make your content instantly stand out amongst the sea of vague statements.
– Is it true that most of the first-page articles haven't been updated in a long time? If so, you may be able to sneak into the top 10 with something more current.
– Create content that is dense: Publish content that is more valuable per word.
– There is nothing worse than reading a giant wall of text. You can make your content stand out by adding lots of visuals (especially custom-made ones).
An overview of technical SEO
The goal of technical SEO is to make sure that search engines can find, crawl, and index all of your pages (and not those you don't).
Additionally, technical SEO takes into account your website's overall performance and usability.
That's why it's important!
But for now, here are a few things you need to know about technical SEO:
– As faster pages have a better user experience, Google ranks them higher in the search results.
– You should make your content mobile-friendly so that users can access it easily on their mobile devices. As a matter of fact, Google now evaluates your content based on its performance on mobile devices.
– The user experience or interface should allow visitors to take immediate action, regardless of whether they are reading an article or navigating to a specific section.
– Google understands your content better if you use schema markup.
The architecture of a website
An organization and grouping of web pages are referred to as website architecture.
Diagram illustrating the architecture of a website
In most cases (such as a small blog or small eCommerce site), site architecture isn't that important. Website architecture can start to affect your SEO if your site grows to 1,000+ pages.
What makes this important?
Having a well-organized website architecture will help search engines find all of your pages.
An illustration of a simple site architecture
Search engines may find it difficult to find new pages if your architecture is disorganized or new pages are several clicks away from your homepage.
An illustration of a messy site architecture
It is also a bonus that a clean site architecture ensures that link authority "flows" from one page to the next.
Building links
By link building, you obtain backlinks to your website from other sites.
An illustration of link building with four websites pointing to yours
Backlinks are essentially votes of trust and authority from other sites, so they're crucial to ranking in Google.
The more high-quality domains that link to your website, the more authority your website will have in Google's eyes.
The authority of high authority links is increased
The key to link building is to focus on quality (not quantity).
The ranking power of a single backlink from a high-authority site will be greater than 100 backlinks from irrelevant, low-quality sites.
It is more authoritative to pass authority from one high authority backlink than three low authority backlinks.
As a result, link building requires balancing. There is no doubt that you want as many links as possible. However, those links must come from relevant, high-quality sources.
How to Build Links
To build links, you identify people who are capable of linking to your content (website owners, journalists, bloggers, etc. ), point them to your content, and ask them to link to it.
Theoretically, it sounds simple. However, convincing someone to add a link to your site can be tricky in practice.
Therefore, you should focus on these proven link-building strategies:
Develop linkable assets that people will want to link to
– Social media sharing should be consistent
– Contribute to (strategic) guest posting
– Broken link building can be used
– Make unlinked brand mentions linkable
– Backlinks from competitors should be replicated
– Obtain backlinks that have been lost
– In the early stages of your SEO campaign, you may have to build links manually.
Eventually, you want to transition to passive links. These are links that people send to your site without you having to actively build them.
The following steps can be taken:
Within your niche, create useful, authoritative content
Choosing the right keywords will help you reach the right audience with your content
Provide people with visual content (like infographics) that links back to your site
Publish content that analyzes data in a unique and helpful way, especially original analysis
Thanks for taking the time to read this.